Chimney Installations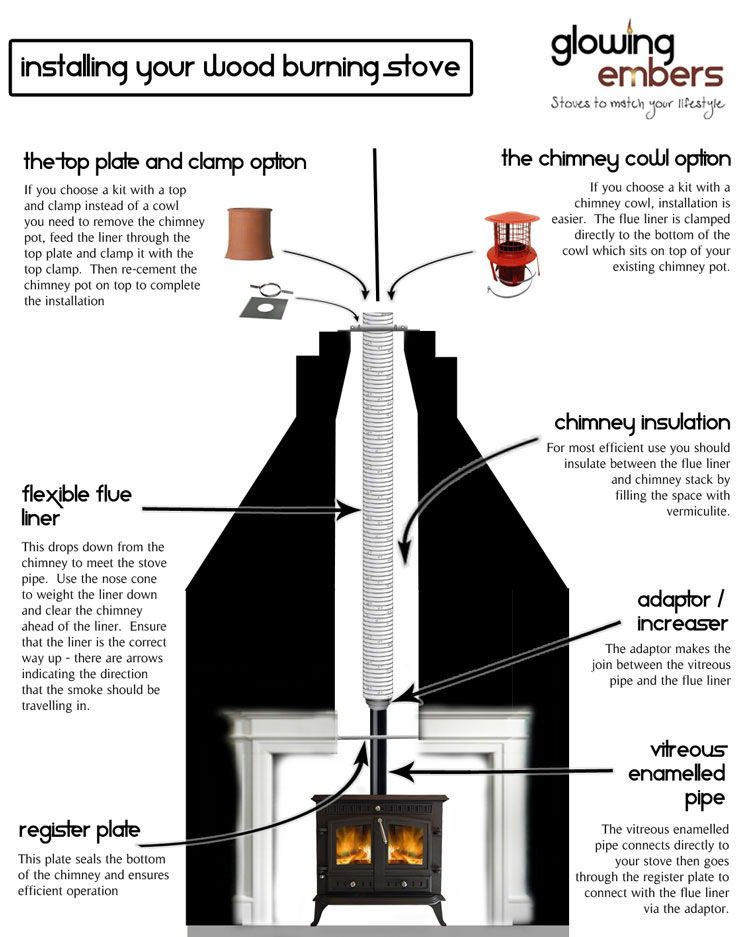 ABOVE: Lining a chimney using a multi fuel flexible liner for wood burning stoves.
Reasons for lining a chimney when installing wood burning stoves
For a wood burning stove to work correctly it must be connected to a sound chimney and correctly sized flue, therefore it is always recommended fitting a chimney liner when installing a new multi-fuel stove.
If a chimney liner is not installed there are a number of problems that you may experience.
1. Smoke and fumes from wood burning stoves leaking into other rooms or parts of the building.
2. Tar seeping through the chimney walls causing staining.
3. The old flue surface has deteriorated, resulting in poor up-draught.
4. The flue is much too large for the type of appliance being used resulting in poor up-draught.
5. The flue is cold and damp especially if it's on the outside wall, reducing the heat of the smoke and gases resulting in poor up-draught.
Can I do the work myself?
Although lining a chimney for wood burning stoves now falls under building control it's not a complicated job and can be done by a competent DIYer, however you must inform your local building control department who will inspect the work once the job has been completed. Please click here for Building Regulations that apply to stoves. Document J
If you would like your chimney liner to be installed for you, please see our HETAS installer page.
Tools required to install a flexible chimney liner
There are no specialist tools needed to fit a flexible chimney liner for wood burning stoves, however you will need access to the top of the chimney stack using roof ladders or preferably scaffolding, it is highly recommended to use harnesses when working at height, other safety equipment should include masks, goggles and gloves.
Installing the flexible flue line
1. Before you start the chimney must be swept and inspected for structural defects and the area around the stove should be protected from debris and dust.
2. If you are using our chimney pot hanging cowl, you can skip this step, otherwise you will need to remove the chimney pot and mortar on top of the chimney stack.
3. Cut the register plate to size and fix the angle iron in place.
4. You will need a piece of rope 5 meters longer than the liner. Tie a weight to it and lower it down the chimney.
5. Attach the nose cone to the bottom of the liner (the liner is directional, arrows pointing upwards) and if using Rockwool, Chimwrap or k-wrap secure this to the liner.
6. Tie the rope to the nose cone and lower the liner down the chimney, if there are bends in the chimney and the liner gets stuck it is possible to open up the chimney from inside the house to help the liner navigate the bend.
7. Once the chimney liner is in place, connect the chimney liner to the appropriate adaptor using stainless steel self-tapping screws then fit the stove pipe, now fit the register plate, put the stove in place and seal around the register plate and flue pipe with fire cement.
8. If you have pre insulated the flexible flue liner it is recommended that you put adequate vermiculite insulation above the register plate to stop the heat escaping in to the chimney void, this should be done before putting the top plate on.
9. If you haven't pre insulated the flexible flue liner then it is recommended you fill the chimney void with vermiculite insulation.
10. If you are using a chimney pot hanging cowl cut the flexible flue liner to length and attach the chimney pot hanging cowl to the chimney liner using the provided fixing straps, insert the cowl into the chimney pot and attach using the straps provided.
11. If you are using the traditional method cut the liner to length and fit the top plate and insert and then the top clamp.
12. Re-fit the chimney pot and leave for 34 hours before performing a smoke test.
Wood burning stoves should always be treated with care, regularly maintained and well installed. A poorly installed or poorly cared for wood burning stove can cost lives. These instructions are designed as a guide only to help safe installation but if you are unsure on how to install your wood burning stove then please do contact a professional.
18th February 2015
Comments
Joanne hind-pitcher says:
25th November 2016 at 10:25 pm
Hi,I'm looking at one of the log burners and have an existing chimney previous used for a central heating back boiler that was removed when I changed the boiler to a combi. I am looking at a log burner just as a basic one with the best price for installation. Please could you advise me on these costs as an estimate possibly using the cowl option if the simplest. Thanks,
Richard Fewings says:
25th November 2016 at 12:19 pm
Thanks very much for your enquiry. I have passed this on to our Customer Services Team who will respond to you directly.
Edward says:
8th March 2017 at 5:07 am
Hello, I am looking to purchases one of your boiler stoves to heat a house and/or water. I was looking at your "Broseley Hercules 30kw Multifuel Wood Burning Boiler Stove" now I understand 30kw may not be the size I need but can be worked out at a later date. I have a few questions. First is will I need to install a pump to use your boiler. Bearing in mind the water tank and/or some of the radiators will one 2 stories above the stove (in a converted attic). How does the out up on a wood burn compare to a gas combie boiler (at the moment the boiler is 8-9's) I was think about not installing some register plate and blocking the chimney of at the second floor. Then an aircon vent system in the floor to heat the house. I'm not sure your heaters have been used is such a fashion but any comments would be very helpful.
Edward says:
8th March 2017 at 5:17 am
Hello, am looking at your "Broseley Snowdon 26kw Multifuel Wood Burning Boiler Stove" I can't think it is more expensive that your 30kw model. What does multifuel mean?
Denise Orr says:
2nd May 2017 at 8:04 am
Hi we're thinking of installing a Henley Ascot 5kw multi fuel wood burning stove to an existing fireplace opening that was used for an open fire with no back boiler. My worry is that the opening is height 22? by width 24? and the burner measurements are height 20? by width 16? would this be adequate? I'm worried that the heat would not be projected into the room. Thanks in anticipation of your reply.
Jude Lloyd says:
13th July 2019 at 11:25 am
Can the chimney be fixed to the back of your stoves, we currently have a stove where the fixing are from the back and not the top. I would describe the flu as a dog leg.
Andrew Shuttleworth says:
26th July 2019 at 3:28 pm
A flue system (Flexible Chimney Liner or Twin Wall flue system) can be attached to either outlet on a stove that offers top or rear but if exiting the rear, you must use a 90 Tee Piece to bring the system up vertically immediately, then a length of single skin pipe before converting to Flexible Liner or Twin Wall. Please bear in mind though, the best flue system is vertical, exiting the top of the burner.
David Strickland says:
23rd November 2019 at 4:07 pm
I have a fixed clay 10" flue (bungalow built in 1969) for previously used for a gas fire. I've just had it swept and the fireplace opened. The bottom of the flue liner is only about 2 inches higher than the lintel which I really don't want to pull out/raise. What connection can be made if I have a stove with a 5" flue. ('m looking at a woodburner no more than 5kw) Thanks
Andrew Shuttleworth says:
31st January 2020 at 10:28 am
You simply require a Spun Pot Adapter or Pumice Liner Adapter to bridge that connection. Here is a link to Glowing Embers' – https://www.glowing-embers.co.uk/ConnectingAdapters/5Inch?zenid=66ik8tspg9aj9ckdsua145ael6
Nina wieteska says:
26th March 2021 at 2:55 pm
I'm looking atportway arundel multihull burner I haven't a chimney just out side wall is it possible to install
Andrew Shuttleworth says:
23rd June 2021 at 3:31 pm
It certainly is, you simply require a Twin Wall system passing through your external wall and rising up the outside of your property. Please contact our HETAS approved sales team for advice and a quote on 01376 555182 or enquiries@glowing-embers.co.uk
Lewis Duff says:
29th August 2021 at 10:22 pm
Hi, We are having a stove fitted into an existing fireplace. The chimney has been lined with a 125mm twin wall liner, the stove we are fitting is a Stovax Sheraton 5 Eco. The stove has a flue outlet with a diameter of 150mm. The fireplace opening is supported by an old oak beam which will be 450mm from the top of the stove. However, the beam will not be far enough away from the flue pipe as it passes up the chimney so will, as far as we are being told, need to be insulted. What pipe, fittings and registration plate will we need to install the flue pipe and connection to the 125mm liner? Many thanks
Andrew Shuttleworth says:
6th October 2021 at 1:49 pm
First things first, if your stove has a 150mm diameter outlet, then you must replace your 125mm flue liner. You cannot and must not connect the two!
Daniel Hunt says:
25th March 2022 at 4:45 pm
Thank you very much for this helpful guide. We'd like to reduce our chimney height prior to having an install. Will this be ok regs wise as long as we still meet the criteria as listed in your non chimney section guide? 1m vertical and at least 2.3 horizontal clearance of the roof?
Andrew Shuttleworth says:
30th March 2022 at 9:28 am
As long as the point where your chimney flue terminates is 1000mm minimum up out of the roof and further then 2.3m horizontally from the roof surface, then your new reduced flue system will meet the minimum building regulations however, you must also consider that the shorter flue you desire may not be sufficient to effectively operate the wood burner so this may not be possible at all. Best thing to do is to discuss with your HETAS approved installer as they can take flue draught readings to ascertain the suitability of your propsoal to operate a stove effectively and efficiently.
Darren Teague says:
3rd July 2022 at 11:45 am
Hi I'm fitting kratki lucy double sided log burner into existing chimney Do I need to fit register plate as I bought the kit from yourself and there wasnt one supplied Also do I need to vent the chimney Many thanks Darren
Andrew Shuttleworth says:
4th July 2022 at 11:53 am
A register plate (often referred to as a closure plate) should always be used wherever a stove vents directly into the chimney, this is to ensure heat is reflected into the room (and not lost up the chimney cavity) and no debris or insulation can fall into the room. Register plates are sold in 3 set sizes but can be cut down to suit. There will always be an element of moisture in the chimney whether used or unused and so to avoid moisture problems, your chimney should always be vented.
K roberts says:
30th August 2022 at 10:15 pm
I am proposing to install your Henry Dalewood double sided log burner in my bungalow with brick chimney stack, will be lining with flue liner etc, as this is 6kw stove do I need external vent.
Andrew Shuttleworth says:
31st August 2022 at 1:06 pm
Thank you for your enquiry with us, yes you still would need to install an air vent in to at least one of the rooms.